Welcome to Walthamstow Osteopaths
Important: We require that all patients wear a face mask when inside the clinic (please contact us before your appointment if you are exempt) and where possible to get a covid test before their appointment. This is for the protection of our Osteopaths, reception staff and of course all of our patients. Please check your appointment confirmation email for important information.
To optimise patient and staff safety we are rigorously following Public Health England, General Osteopathic Council and Institute of Osteopathy guidelines on infection control and also have our own thorough protocols in operation.
You can read more about the infection control measures we have in place here: Infection Control
Whilst we do our best to provide a full service, we may occasionally have to adjust appointment availability.
All booked appointments will take place as planned unless we contact you to advise otherwise.
We hope you have been staying safe and well during these difficult times and look forward to seeing you
Regards,
Iain and Steve.
---
Established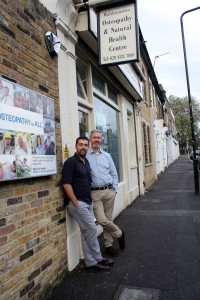 in 2000, the practice is run by Osteopaths Iain Chapman and Stephen Moore. Situated close to the transport hub of Walthamstow Central and bordering Walthamstow Village, our modernised Victorian premises offer a comfortable environment in which to be treated.
Our ethos is simple: To offer safe, effective and affordable high quality natural/complementary therapies for your healthcare needs.
We aim to see new patients as quickly as possible and keep emergency appointments so that you can usually be seen on the day you call.
If you are unsure whether osteopathy is the right treatment for you, please call to talk to our helpful reception team or one of our Osteopaths on 020 8521 7888
We look forward to hearing from you.
Thanks for visiting.
Iain and Steve