Stephen Moore – Osteopath
Qualifications/Training: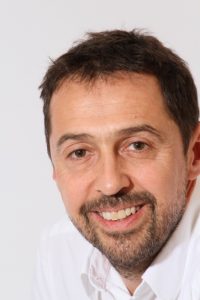 BSc (Ost) DO. Andrew Still College of Osteopathy/Kingston University. 1997
Memberships: Institute of Osteopathy, Sutherland Cranial Society, London Osteopathic Society, Waltham Forest Osteopathic Group, Institute of Ergonomics
---
"I love osteopathy and I love being an osteopath."
I have been practicing osteopathy since 1997 and in that time I have carried out over 40,000 treatments. Like any job some days are more challenging than others but I never get out of bed and feel I don't want to go to work. When I finish the day, however hard it may be, I come home knowing that I have done my best in trying to help patients.
In practicing osteopathy there is a need for scientific rigour and professional and technical excellence.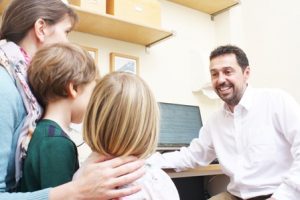 However, there is also an art in understanding a patient's needs, concerns and history and in applying osteopathic techniques in a medically rigorous but sensitive and effective way. It is this balance that is a constant challenge and fascination.
Although I have treated thousands of people with neck and back pain, every patient has a different story, medical history and lifestyle, so the application of osteopathy to them will be subtly different.
I believe an effective Osteopath should be a pain detective or Painspotter. It requires careful and thoughtful questioning to establish what the predisposing, maintaining and underlying causes of problems are; not just the precipitating factor which patients often believe is the cause of their problem.
I want to know about work history, hobbies, sports injuries, postural habits and family history; as much information as possible on the real causes of a patient's problems.
As well as practicing Osteopathy and Cranial Osteopathy for 18 years I have post graduate training in ergonomics, core training and yoga teaching. I have 12 years experience working within the NHS, Bupa and Nuffield Health as a health education specialist and exercise physiologist, and I have experience of training an International Athlete.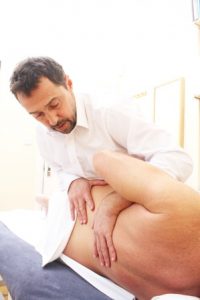 I have been published in a Sports Psychology journal and have been a lead Practitioner involved in researching the efficacy of Osteopathy within a busy London G.P. practice http://www.biomedcentral.com/content/pdf/1471-2296-12-49.pdf
This means that I am not only a Painspotter but a Painstopper and I will do my best to give you the skills to prevent a recurrence of your problem, encouraging you to make yourself better in the long term.
I believe Osteopaths are generalists. We deal with all areas of the body and a vast array of different problems. During my 18 years of Osteopathic practice I have treated patients from 3 days to 94 years of age, a variety of ethnic backgrounds and a vast array of jobs and interests. All of them bring unique stories and histories to the consultation and it has been this dynamic, diverse and vibrant community that have made being a local Osteopath in Walthamstow such a wonderful experience.
Hopefully I will be here for another 18 years.
Steve
---
Testimonials
Congratulations to Nick on becoming World Duathlon Champion in 2017
Nick has been a long term client of mine since incurring a marathon related injury back in 2005. Since that initial treatment I have dealt with other occasional issues and have quarterly check-ups with him. Since 2005 Nick has represented Great Britain in duathlon, triathlon and masters athletics winning medals in international competitions. Since 2008 Nick has been a member of the Torq triathlon team. Nick says: "Steve has helped keep me almost injury free for over 10 years which is a remarkable achievement and has always been keen to stress self-diagnosis and instruct on appropriate exercises and stretches to alleviate and reduce the risk of recurrent injuries"
Main highlights:Running
4 time British Masters champion (1,500m, 3000m and Mile)
18 time Essex AAA medallist (including individual Golds at cross country, road and indoor track) Duathlon
2011 Bronze medallist in the European and World duathlon championships
2012 Silver medallist in the European duathlon championships
---
Congratulations to Philip Bowes AKA Quicksilver on gaining the Commonwealth super-lightweight title in 2019
Phil says: "Steve treated me for a forearm and wrist injury in late 2017. His treatment relieved the pain and got me back to training at a crucial time in my professional boxing career. Since then I have had regular maintenance treatments which have helped to keep me injury free on my road to becoming Commonwealth Champion. Steve's experience as an Osteopath and Sports Psychologist has contributed significantly to my success as a professional boxer.
Steve says: " It has been a pleasure to be so closely involved in preparing such a talented and dedicated professional sportsman. Phil's physical preparation and mental focus is outstanding and I look forward to playing my part in his continued success and hopefully his journey to World Champion."
---
"Stephen Moore came highly recommended to me by a friend. I saw him for a number of sessions for an acute ongoing lower back problem and he used a variety of techniques including osteopathy (inc cranial), acupuncture and yoga, stretching/positional advice and I left every session with increased movement and less pain. He was friendly, professional and understanding and even went as far as to write a letter of recommendation so I could get my mmr scan when GP was dragging his heels! Couldn't recommend him enough!"
Adam S – Graphic designer
---
"I just wanted to say a heartfelt and huge thank you. God knows what I was going through with my back pain. Your empathy, professionalism and kindness has assisted me greatly in giving me back the quality of life I took for granted.
Thank you so much!"
Marie Q – College administrator
---
"After many years of back problems – resulting from an injury and then surgery – I was finally able to get the holistic care that I needed from Walthamstow Osteopaths. Through a range of tailored therapies, Steve assisting me to correct my misalignment which had been causing me intense pain for many months. What I particularly liked about this course of treatment was that it was sympathetic to my general health and additional problems – such as sciatica and previously prolapsed discs. Through acupuncture, manual manipulation and deep tissue massage my hips/back misalignment was addressed in a way that hadn't been helped by previous physiotherapy through the NHS. I am now able to treat my back condition myself through pilates and regular exercise. I would definitely recommend this practice as I am now relatively pain-free. If you are able to afford this treatment it is well worth the price."
Hannah H – Librarian
---
"When you haven't been able to move your neck properly for 2 WEEKS and you overcome your extreme fear of neck cracking the world becomes a WONDROUS place once more Walthamstow Osteopaths you ROCK!!!! Thank You Stephen – from everyone in my office who now don't have to listen to me moan about my neck anymore"
Helen C – Recruiter